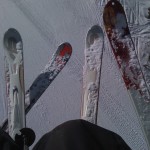 We were having a family snow vacation in the Rocky Mountains.
Have you ever ridden on a chairlift?  It's an amazing device that carries people up mountains so we can ski down them where we hop back on a chairlift and do it all over again.  A seat on a school bus is more comfortable, but a chairlift does the job it was made for.
I was riding up the ski slope on a chairlift with my bro-in-law in Breckenridge, Colorado.  He lives in England with my sister and the three best nephews that an aunt could ask for.  I wish they all lived closer, but my bro-in-law is from England and loves the damp and cold.  It boggles my Hawaii Island mind, but since he's family I make an effort to understand where he's coming from.
Back to the chairlift…let me set the stage for you.  A girl from Hawaii and a guy from jolly 'ole are riding on a three person chairlift through a blizzard.
The weather is shhnasty.
Snow is blowing sideways, the sky is somewhere up there but we can't see it.  About the only thing not completely covered on my body is a slit between my Ski Jackson Hole beenie and my favorite red-I know you can see me so don't hit me-scarf.  The only reason the slit isn't covered is I need a place for my baby blues to peer out of.  There are literally icicles on my eyelashes.  If the sun was shining I am sure the light prisms through the icicles would look like my own personal rainbow.
"Mmmphmmph", says my bro-in-law.
That's not really what he said, but that's what it sounded like through all the layers and layers that I've wrapped around my ears.
"What'd you say?"  I feel like I'm screaming to be heard over the wind.
"I watched the weather last night and it is supposed to stay like this through Thursday", I hear him say loud and clear this time, British accent and all.
It's Sunday.
Thursday is a long time from now.
"Oh, H. E. Double Hockey Sticks No!!", I'm thinking in my head.  That's completely unacceptable.
My bro-in-law seems happily resigned to what he believes is a fact.  Of course he's happily resigned to the fact that the oil fired heat in his gorgeous drafty house doesn't raise the winter temperature above barely tolerable (seriously it takes me an hour to talk myself out of bed when I go stay with them in the winter.  I know I'm from an island in the Pacific, but I'm just saying…).  He's also ridiculously cheerful about slogging around in wellies (a British fashion statement all it's own) and rain bonnets while we picnic beside a cricket match that goes on so long that it makes American baseball look like a fast-paced high-contact sport.
I digress.
I love my bro-in-law.  He's family.  He's also British.  Stiff upper lip and all that.  'Nuff said.
So in my head I have a little conversation with the universal-all-that-is.  It's sort of like calling a board meeting with Spirit, my Angels and my Guides…  What I like to call my Everybodies.
It goes something like this.  "Everybodies, you know I'm here to ski this week and you know that this is not the kind of ski experience that I'm expecting.  I know that you are capable of better and since you know my preferences, I'm leaving the details up to you.  Let's rock this."
Then I sit and wait in anticipation of what Everybodies will bring.
I am always delightfully amazed.
This is not an exception.
Before we get to the top of the chairlift, the sun shows up.  I have no idea where the clouds disappear to, but there is a Colorado-crisp blue sky overhead almost instantaneously.  Wow!  The wind dies to barely perceptible.  I shake the drifts of snow from my coat and skis, getting ready for the upcoming chairlift exit.  Then I hear a noise and look to my right.
What?
I feel like I've just seen a fat man in a red sleigh pulled by eight tiny reindeer.  What to my wondering eyes appear?  Not one, not two, but three snow cats driving down the slope that I was planning to take.  If you don't ski, you have know idea of the bliss that comes from carving turns on a freshly groomed slope.  Three machines gracefully marching down the entire width of my ski run is my idea of ski heaven.
The Everybodies had outdone themselves.  Sun and wind were easy.  Now they were just showing off.  I was dutifully impressed and awed.
I slid off of the chairlift and laughed out loud as I skied all the way down the untracked snow to the base of the mountain.  At the bottom, I kicked out of my skis and made my way to the condo for a hot toddy and a hot tub because, by gosh, it just doesn't get any better on the slopes than that.  It was perfection.
If you follow Esther Hicks and the teachings of Abraham (cool stuff if you want to look it up), she talks about The Grid.  Basically she suggests that you do just what I had done.  Set an intention and let your Everybodies fill in the details.  The Everybodies have a much more infinite perspective of what's possible than most folks on the planet.
Let your Everybodies amaze you.  They are just waiting for you to ask them for help.  Give them a chance to show off.  Everybodies love showing off.
Share your stories with me when they do.
With sunshiny snow flake kisses for you.
Sylver