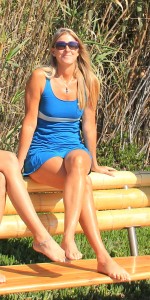 I'm a wellness warrior.  My passion grew from my own health crisis opportunity.  I was diagnosed with a softball size tumor on my ovary when I was in my early 40's.  It totally took me by surprise.  I considered myself a fairly healthy active person with a great life.  My great life consisted of a 60-70 hour work week and a boat load of stress, but that was my normal back then.   Long story short, through some beautiful synchronistic events, I guided myself to some fabulous healing resources and dissolved my mass.  To say that the journey was life changing for me would be a drastic understatement.
After my diagnosis, the first book I read was by Louise Hay, You Can Heal Your Life.  That lady asked me to take responsibility for my thoughts and the resulting physical manifestation of them.  That was hard!  I mean seriously, who in the world believes they actively sought out a tumor?  Well, I do now, but back then it was a HUGE stretch to envision that possibility.
My wellness practice grew from that tiny powerful seed and each day I add more seeds of change to my garden.  The most powerful thing I grow in my life now is the desire for impeccable thoughts.  When you change your thoughts, your world will show up in the most amazing way.
I love sharing stories from my whirled…
I hope you feel uplifted and inspired when you take them in.