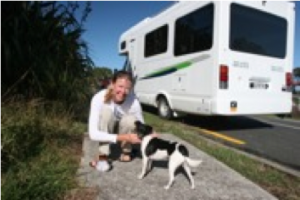 I love to travel.
Yep. I am an Explorer.
It's no accident that I was born into a family that had a sailboat manufacturing company called Vagabond. When I decided to be born on planet Earth, I definitely picked the right Mom and Dad. My family was always moving. Growing up I went to four different elementary schools, one junior high and two high schools. And, to answer the question I've been asked more than a couple of times; No, my Dad was not in the military. I flew on my first airplane before I was a year old. I had my first passport long before my tenth birthday. Let's just say I believe the desire to move and groove is etched deeply in my DNA.
From grade school, fast forward a few decades.
One fine March day when I'd been in one place far too long, Sweetie suggested we check out New Zealand. I've been loads of places, but never put a pin on the map south of the equator. I was intrigued.
We looked online at lodging in the areas we thought sounded interesting and stumbled upon an RV camper rental web site. What a perfect way to see such a diverse country and if you've looked on a globe, New Zealand looks tiny. We figured we could cover it all in a month (if you've been to the land of Kiwis-don't fall over laughing at this point! Globes are deceiving. That country is HUGE!).
We checked out the RV's, looked into airfare, added up the total dollars and got discouraged. It wasn't looking like an affordable vacation.
I thought, oh well, we will just have to stay in Hawaii. Sigh. Rough, right?
But, I just couldn't calm my itchy feet and New Zealand seemed to be popping up in my awareness everywhere. I went to Costco and the butcher was just loading the lamb from New Zealand. We were researching the purchase of Sprinter Vans and they referred to the Kea vans that were used for rentals in New Zealand. I was sitting on the beach and asked the folks next to me where they were from. You guessed it, New Zealand.
All right, already. I waved my flag of surrender, went home to Sweetie and said, let's do this. If we planned to go the first week of May, I had a month to figure out how I was going to pay for it.
Sometimes I find that the first step is the most difficult one. I took a deep breath and hit complete on the airfare reservation. Step one was done. We were committed(ish).
I took a computer break and released some tension playing a game of ping pong with Sweetie. It's one of our favorite ways to refocus when we get uptight. We also love our electronic dart board and throwing a frisbee in the back yard. Ping pong, however, is numero uno in our unwind book. Try it. It's awesome.
After Sweetie beat me (again, sigh). I went back to the computer and pulled up the Kea web site.
And…guess what!?
The RV that we had been researching had just updated their rates and they now offered a 30% discount. Buy four days and get three free. We had planned booking the RV for four weeks and spending two in regular hotels, but now we could book the RV for the full six weeks for cheaper. Wahoo!
We filled in the details of our flights, pushed the send button and Voila!, step two was done.
Now we had a plane flight, a place to stay AND a vehicle to get around in. I was getting excited. I still had butterflies in my belly about where the moula was coming from, but I had been practicing trust for a while and I figured this was just one more opportunity to hone my skills.
I went to sleep that night dreaming of our upcoming adventure.
The next day, I got a phone call from my friend, Bear. His name's not really Bear, but that's what everyone calls him, Surfer Bear.
"I have a friend in town who wants to look at condos. Can you show him today?" Bear asked.
First you should know that I have a real estate broker license in Hawaii, so helping someone find their place definitely fits one of my many job descriptions. Being completely free to show someone on such short notice is fairly unusual, though. Plus, most folks with condos listed for sale want a minimum of 24 hours notice before letting me in to show them. I thought this might be tricky, but I prefer a sure/why not? attitude so I said yes to Bear and his condo looking buddy.
As it worked out I had six properties available to show that fit the criteria I'd been given. When we walked into the first one, Bear and his buddy went crazy nuts. Condo numero uno had a fantabulous view of one of the prime surf spots. Buddy could sit on the lanai (balcony for all you non-Hawaiians) and watch the waves all day and all night if he felt like it. It was surfing nirvana.
I have to be honest, the other five properties didn't stand a chance after numero uno. I can't even remember much about them. Mainly I remember the others being compared to numero uno and not making the cut. The whole process only took a few hours and Buddy was ready to make an offer. The offer was accepted in record time and we closed within a couple of weeks. It was a fun, whirlwind transaction with happy sellers and happier buyers.
Did I mention I love helping people find their place? I do. Whether it's their spiritual place, their inspired place, their centered space or their physical space, I find such joy in being of service in this way.
I'm sure you are wondering how this relates to my Kiwi story.
At closing of the sale in the end of April, I got a check. The amount, almost to the penny, was what the trip to New Zealand was costing.
I still wonder if the universe would have supported me so well by ushering Bear and his buddy my way if I had not moved forward with trust. I don't believe it would have.
I think some folks have it bassackwards when they wait until they have the support before they reach for their dreams. My universe works the opposite way and so does yours.
First and foremost, have a dream. Second, believe you deserve to have it come true. Next, go for it! Grab it with everything you have. It's okay to have a couple of flutterbies in your stomach. You are human.
One thing I absolutely know. If you do not reach for your dreams, you will surely fall short of them.
So…Why not try? As Bloody Mary sang in South Pacific, "You got to have a dream. If you don't have a dream, how you gonna make a dream come true?"
Dream On Fabulous Dreamers~
Much Love and Aloha
Sylver