I believe everyday is Christmas. I can't wait to see what presents from the universe will come my way each day. It's amazing! Most other folks I've met, prefer to celebrate this particular holiday once a year in December. That's okay, too. I delight in the festive atmosphere, the twinkly lights (who doesn't love twinkly lights?), the sense of anticipation, the celebrations….mmmmm….I can smell the evergreen boughs on the mantle now. How about you? What happy memories are coming up for you?
Christmas looks a little different for those of us living in Hawaii. It's swaying palm trees, salty ocean water sports and pot luck dinner on the beach with family and friends. One other thing that is different is the somewhat limited access to stuph, so one December I decided to leave my rural island and go to the more populated (more stuph) Oahu to do some shopping.
At the start of my adventure, Sweetie drove me to the airport in Kona. As I got out of the truck he somewhat shyly stuffed a wad of money in my hand.
"What's this for" I asked?
"I want to get you your very first REAL surfboard, but I decided you will have a better selection on Oahu. Let me tell you what I think you need." And he proceeded to give me a list, which I dutifully wrote down, of the characteristics he would recommend for my board. I was soooo surprised and excited and nervous (picking out a surfboard all by myself?) and happy and by the way…did I mention, EXCITED?
I flew from the Big Island to Maui, scooped up a girlfriend, Ms. S, on the way and off to the shopping mecca of Oahu we went.
We didn't want to waste any daylight, so after a brief stop at our fabulous Waikiki home-away-from-home hotel, we skedaddled out into the traffic that is Honolulu (look it up – it's legendary!). While the divine Ms. S drove, I navigated with my trusty MapQuest app and found the closest board store to our hotel. I walked in and was immediately drawn to a blue surfboard. I had to see it up close and personal. When the sales person took it out of the rack, my heart fell. It was 9' long, not the 10'2" I had been instructed to get by my very knowledgeable-been-surfing-fo'evah Sweetie.
For those who know nothing about surfboards, fourteen inches is a BIG difference in length. Not only is there a difference in length, but it usually means a corresponding difference in width as well. Longer is usually a little wider, too. As Sweetie says, it floats you mo' bettah. Translated – theoretically it makes it easier to catch waves.
"We've named it Nami", the sales person volunteered.
"Nami"?
"It means wave."
And as I walked out the door of the shop, I waved goodbye to Nami, but couldn't stop thinking about that beautiful surfboard.
We stopped at two more shops that were on the way to Ala Mo' Mall. Nothing seemed to fit. I was getting a little discouraged and I still kept looking at the pic on my phone I'd snapped of the blue Nami.
The divine Ms. S had a desire for a once-every-seven-year haircut which coincided perfectly (are you surprised?) with our shopping mall plans. Sounded like the perfect shake me out of 'the mood' place for me. We stopped by the Aveda salon and poof! they had just gotten a cancelation with their top stylist. Divine Ms. S was in. Not just in, but in with The Best they had to offer.
Don't you just love that?!
So, I'm hanging around the waiting room, thumbing through old magazines, that I would never peruse at any other time, when I think, "What am I doing?".
Clue number ?…..I've lost count….I don't wait. If I am waiting, I have missed a fork in my road.
So I start to wonder what I can do with my time. I notice the list of services that the salon offers and WOW! a massage sounds fab. Every surfing diva knows that athletic chicas got some sore places that like to be rub-a-dub- rubbed.
I check in at the check-in desk and….You guessed it! There's a cancellation for a massage starting right now. I am stoked.
The receptionist takes me to the massage waiting area where I get an amazing foot bath and start to wind down for my full body massage. I go from there to my dreamy room with the delightful sounds and smells that only a good spa delivers. My body is already relaxing and the therapist hasn't even entered the room.
When the knock on my door comes, the most beautiful Asian woman walks in and starts by asking me what I want from my massage.
"Remember, this is your experience, so you have to ask for what you want." she says.
Such profound words on so many levels.
"By the way, my name is Nami", she whispers in my ear as I am just starting to drift off.
"Nami? Like wave?" I ask.
"How did you know", she asks?
And that's how I got my favorite surfboard.
When the divine Ms. S came out with her new do (which looked incredibly fantastic), she found me shiny pink, freshly pummeled and oh-so impatient to jump back in the car.
"You'll never guess what I did while I waited for you", I exclaimed. "I found my surfboard."
I brought her up to speed on my experience and we left the mall in way better spirits than we had arrived. We drove straight back to the first surfboard store and bought Nami.
I was in a tiny rental car and yet it never occurred to me to wonder how I was going to get my new surfboard home (they shipped it). I never looked at the price (they gave it to me for exactly the amount of money Sweetie had given me). It didn't matter that it was smaller than Sweetie had suggested (it fits me perfectly and rides the waves like a dream).
It was my board and the universe conspired to bring me my desires. It confirmed that my instincts were spot on and that I had reason to trust yet again.
So go with the flow.
And as they say in the waves, Hang Loose.
No need to stress. The universe loves you and wants to give you your every desire..
Peas Out~
Until Next Thyme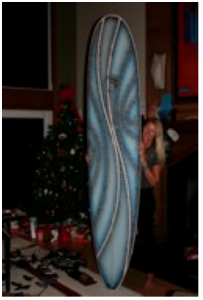 Nami