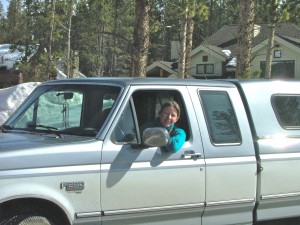 I had a 1995 pick up truck.  My Sweetie and I named the truck, Fred the Lead Sled.  Just like lead, Fred was a metallic grey.  He was an extended cab, Ford F250 Diesel with an eight foot bed and a camper shell.  Fred was an upgrade from tent camping.  He was our car camper.  The camper sheltered us in cozy comfort as we relaxed on a cushy carpet kit covered by the best sleeping bags that WalMart offered.  Fred was our faithful steed for a couple of 100,000 miles.
After a few years, Sweetie and I decided that we indeed enjoyed spending nights out car camping and that we were ready for our next upgrade.  We searched.  Sweetie researched.  We came up with and discarded several options.  Finally we settled on a Sprinter cargo van.  We put our energy into creating a new cozy road tripping nest.
Fred seemed okay with the new arrangement for about a year and then he started to make his dissatisfaction known.  After eight years of uncomplaining service, little things started to require our attention.
At this point, I guess I should share that I have a thing for threes.  After I had the second 'excuse me, I'd like your attention' from Fred, we had a conversation.  I went into the garage and said, "Fred, if you have a desire to have a new caretaker, you can send me one more SMALL sign and I will start helping to move you in that direction."
Well, SMACK!
The next day…Sweetie and I were lifting the camper shell back onto the truck bed after a thorough cleaning and we lost our grip.  The shell slipped and chink!  A dime-sized hole in the camper showed up.
Sign number three had presented itself.  I started searching for someone to patch and match the chingasa with the intent that it was time for Fred to go.
In looking for someone who did fiberglass body work, I ended up talking with a couple of boat repair companies.  The first company was super helpful and suggested I bring Fred by.  I plugged in their address on my handy Apple IPhone and …… OMG …… they were AN HOUR from my house.
I guess I also will let you in on another one of my trade secrets.  I don't wait in lines.  I don't go out of my way.  I don't do hard.  I don't drive an hour for a small patch on Fred.  It's one of the ways that my universe and I communicate with each other.  If it's hard, I have missed a turn on my path somewhere.  If it's easy I'm on my yellow brick road and I am off to see the Wizard.
Well, round two did not go so well either.  I called another boat repair person and he said that with summer in full swing, he was about eight weeks out from being able to do any new work.  Fred had already given me three signs and I had no intention of bartering with Fred for more time.  He was ready to move.
I took a minute and decided to meditate on the situation.
Oy…guess I'll share that, too.  When in doubt, I go quiet and ask that small inner voice to help me hear what I might be missing.
This time the inner voice was saying that I had my energy tied up in all the happy memories that Sweetie and I had enjoyed during our adventuring with Fred.  I realized that I needed to release Fred. Fred was part of my family.  It wasn't easy.
One more sharing…I've learned through the years that if I pay attention and take action when small quiet information comes in, it doesn't have to get louder.  Much like the experiments with Pavlov's dogs and the food/bell training (you can look it up on the web if you so desire), I've cultivated a healthy respect for the quiet messages.  The loud ones just ain't that schweet!
So, I thanked my quiet self for the information. Like an old-fashion slide show, I allowed those happy memories to float through my head, gave them a symbolic sweet kiss goodbye and a thank you. Cue the music…'thanks for the memories' (thank YOU, Bob Hope).  I took twenty minutes to meditate and then my phone rang.  It was the someone that I had spoken with at the second boat company.  He asked a few questions about the size of the hole and then invited me to come by his shop.
For the record, his shop was close. Yeah!
I drove over, introduced myself and Fred and then explained that I wanted Fred's ouchy fixed because I was getting him ready for his new caretaker. The shop owner asked me how much I wanted for Fred.  I had to tell him I honestly did not know.  It had never occurred to me that Fred might have already picked out his next gig (Why not?!). I gave Sweetie a call. He did a quick little web search and gave me a number.  I added two-thousand (Why not?! #2) and shared the number. The shop owner said he was interested.  He asked for the night to think it over and the rest, as they say, is history.
Fred went to his new place of employment and the gentleman that is taking care of him now, didn't care if he had a hole in the shell.  If in the future it does bug him, he can fix it in his own boat shop. How cool is that?
I never put an ad in the paper. I never had a story about how many tire kickers would have to come by and see the truck.  I never worried about not receiving what I felt was a fair trade for the value of Fred.  I trusted and so, my friend, I am inviting you to do the same.
Peach Out…..or Peace Out, if you prefer…..
Sylver